Golf News
Harley drives away with McGregor Trophy – Golf News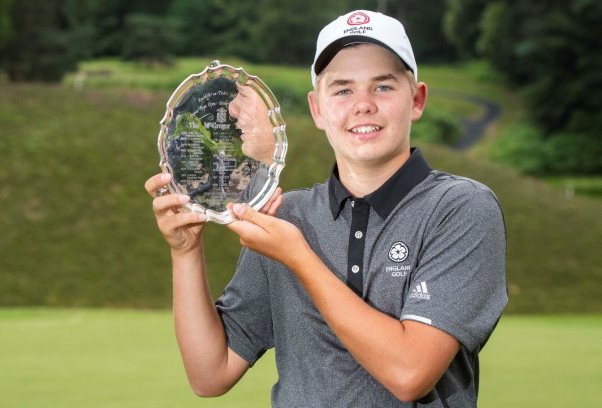 Esley's Harley Smith conceded that he was proud of the points list of previous winners such as Justin Rose, Edoardo Molinari and Oliver Fisher after winning the McGregor Trophy, the English Boys' U16 Championship.
The English boys' game emerged victorious after an exciting final on the 72-hole course at the Camberley Heath Golf Club in Surrey. Rounds of 67, 66 and two final scores of 69 gave the Rayleigh golfer a winning total of -13 and a one-win victory over English team-mate Josh Berry.
Smith led wire-to-wire and showed no nerves to show the best honors and follow the achievements of previous winners who won a major, Ryder Cup or success on Tour. He said: 'It's great to know that touring players have won the same trophy as me. I am very happy to win and how I performed. It feels incredible. "
However, the Essex golfer had to completely fight for the silverware. At halftime, the 16-year-old leader led by five strokes to Luke Perkins of Rochester and Cobham. After today's morning 18 holes, the gap was back to two strokes with Freddie Turnell (Burnham & Berrow) hot on his tail. When it was the turn of the leading groups, Berry of Doncaster threatened a wonderful return.
Berry played four groups ahead of Smith, and he looked like he had his third round 66 of five under par to repeat or even improve to finally get out of the pack. Berry eventually closed with a round of 67 for a total of -12 – with Smith clear thanks to three straight birdies from the 11th.
Eventually, Smith knew that a bow-five at the last hole would clinch the deal. His approach found a green bunker but an assured splash from the sand and then two holes brought him across the line.
"I have a feeling I did not play my best in the mornings," Smith said. 'But I knew it would be difficult for them to shoot another good round with the wind going up and the pressure to play this event as well. I was proud that I did have four rounds in the 60s. It shows me the consistency I have been trying to work with over the past few months. "
There were a number of notable performances during a difficult 36 holes on the final day. Turnell paired seven birdies and an eagle in a flashy third round of 64 to move to nine under par for the championship, and an afternoon round of 70 tied him for third place with Hugh Adams at -10.
Adams, of Hagley, can be proud of his performance. His third round 65 contained seven birdies and just one bow and another sub-round of 70 in the afternoon, gave him a lot of positive things for the week. He said: "I'm disappointed at the moment, but I'll look back tomorrow and realize it's been a strong week with good golf."
It was also another impressive week for Sebastian Desoisa in Gibraltar. After a top-ten finish last month during the English U18 Championship, Desoisa reached four laps below track mark to finish at -9 and in fifth place. He also claims the Jean Case Memorial Trophy awarded to the player who has the highest rank under the age of 15.
Click to see the full rankings here.