Soccer News
Leopards v Bandari Match Report, 09/07/2021, FKF Premier League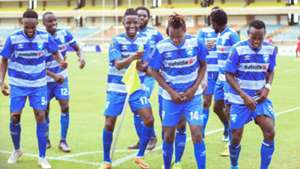 AFC Leopards 2-0 Bandari: Mudenyu, Thiong'o fire Ingwe over Dockers
It was the first involvement for the local heavyweights since they lost in the final of the domestic tournament against K'Ogalo
AFC Leopards played 2-0 victories against Bandari on Friday during a FKF Premier League match at Thika Stadium.
Robert Mudenyu and Peter Thiong'o scored the goals that gave Ingwe the victory that helped them maintain their third position on the leaderboard with 43 points.
Bandari's Felly Mulumba was the first player to receive a yellow card in the 20th minute after bringing Elvis Rupia off the ground, who was about to enter the penalty area and was likely to score from the position.
Dennis Magige was lucky not to get a warning in the 25th minute after a hard tackle on Collins Shichenje, who was in the opening minutes for AFC Leopards. Six minutes after half-time, another Bandari player, Darius Msagha, was shown a yellow card after hitting his elbow Collins Shivachi when they were thrown for a ball.
After spending most of the first half in the first half, Bandari rushed forward and won a corner in the 38th minute after a counter-attack.
However, AFC Leopards were well positioned to solve the danger and immediately start their own attacks against the Dockers.
Another combination between Msagha, William Wadri and Keegan Ndemi in the 41st minute was difficult to handle for Ingwe's backline, but Ndemi was not clinical enough as he shot from outside.
Ingwe got the starting button just as the second half began when Mudenyu – who has been a regular first player since recovering from a long-term knee injury – pulled home from a poorly cleared corner.
The hosts looked more rejuvenated after getting the starting button and attacking more, but the center referee turned down their calls for a penalty in the 54th minute when their top scorer Rupia would be level in the box.
Patrick Aussems made his first change in the 67th minute when he incited Thiong'o for Eugene Mukangula.
Two minutes later another substitution was made when Harrison Mwendwa was injured and Caleb Olilo was thrown into action. Bandari's Casa Mbungo waited until the 77th minute to introduce Benjamin Mosha to Msagha.
Ingwe doubled their lead in the 80th minute when Thiong'o nodded home to Justin Ndikumana after being put on target by Washington Munene.
With a number of chances created in the last ten minutes and in the extra minutes, the hosts could not find any more goals to extend the lead further.
AFC Leopards XI: Ezekiel Owade, Collins Shivachi, Robert Mudenyu, Isaac Kipyegon, Eugene Mukangula, Collins Shichenje, Marvin Nabwire, Harrison Mwendwa, Elvis Rupia.
Subs: Yusuf Mainge, Peter Thiong'o, Caleb Olilo, Bienvenue Shaka, Dan Sunguti, Omar Somobwana, Boniface Mukhekhe, Austin Odhiambo.
Bandari XI: Justin Ndikumana, Atariza Amai, Brian Odera, Felly Mulumba, Dennis Magige, Abdallah Hassan, Danson Namasakha, William Wadri, Keegan Ndemi, Darius Msagha.
Subs: Michael Wanyika, Dan Otewa, Daniel Omondi, Collins Agade, Beranrd Odhiambo, Umaru Kasumba, Wilberforce Lugogo, Benjamin Mosha, Guerlord Mwamba.