Golf News
Steve Stricker continued to rise by 4 strokes despite struggling at the Senior Players Championship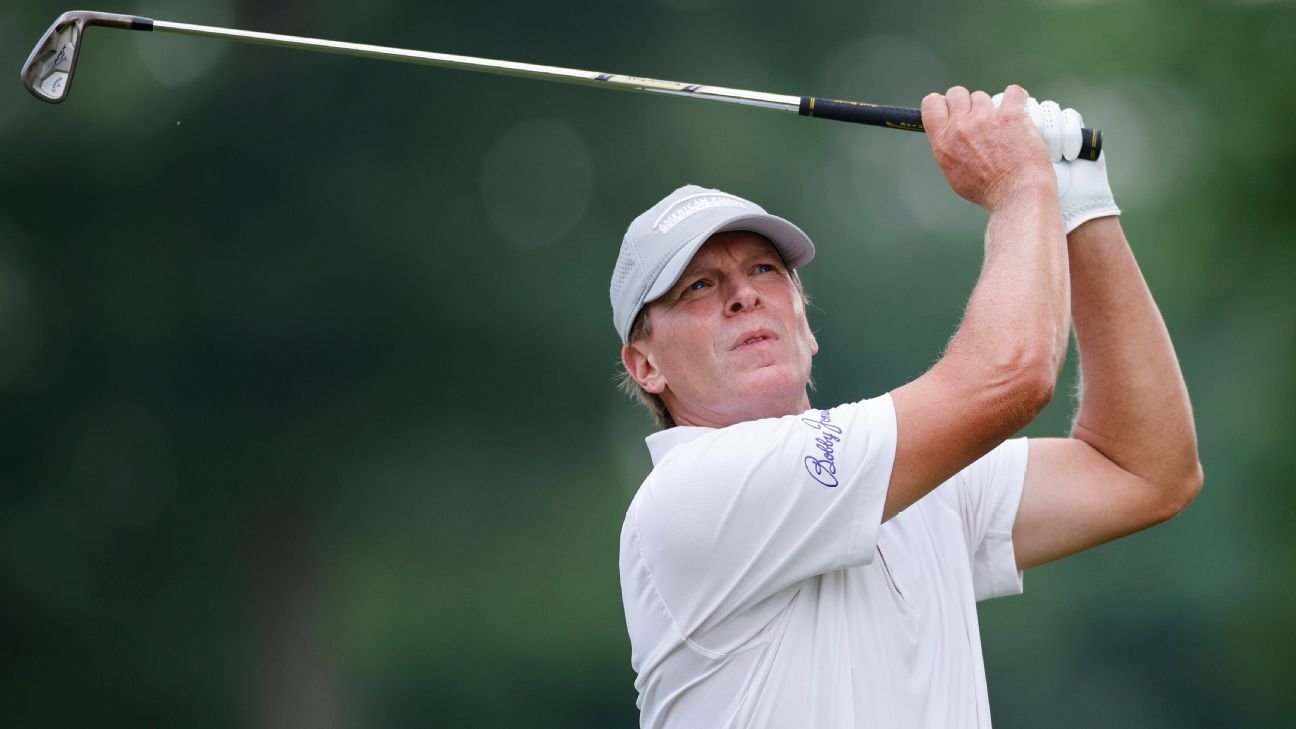 AKRON, Ohio – Three opening birds given Steve Stricker an eight-stroke lead in a runaway victory in the Bridgestone Seniors Players Championship on Saturday.
Towards the end of the day, Stricker continued at Firestone.
Stricker lacked greens and set shots until his lead was on three shots. He established himself with a birdie on the par-5 16th and led with a 2-over 72 Jerry Kelly with four shots penetrating the final round.
"I like where I stand now more than three hours ago," said defending champion Kelly, who was left behind by as many as ten strokes at one point.
Stricker scored the 10th try, took double bow from the bunker on the par-3 12th and missed the green for bogeys on the 14th and 15th holes as his lead continued to shrink.
He narrowed the water on the par-5 16th narrowly with a 4-iron and bounded the ball over the green to the rough. Facing a narrow sting back to the water, he raises it perfectly to 4 feet for bird.
Two regulation presses put him at 7-under 203.
"I started a five-stroke lead, and I have four now, so all in all I did not give away too much," Stricker said. 'I had the opportunity to really distance myself, and it was today's plan to go out, get going and be aggressive and make some birdies and move forward.
Kelly, who opened with a birdie, shot a 68. Ken Duke had a 70 and was another shot behind at 2-under 208. They were the only players to remain below par.
Stricker is going for his second win of the year, and it looked like this one could be a breeze for so long. He started with a five-stroke lead and felt the first three holes to stretch his lead to eight strokes Paul Broadhurst and 10 shots over Kelly.
Stricker passed 39 holes to his first one at no. 4. He was still in command until everything on the back nine started to fall apart.
"Until you make the first bow, you feel like you're pretty much invincible," Kelly said.
Stricker got a bad break when his 6-iron on the 12th caught the top of the bunker and rolled into a lie so he couldn't even get it on the green. Suddenly it felt like everything could go wrong, until he played solidly over the last three holes.
"I'm fine," Stricker said. "I just wish I didn't have the little hiccup in the middle."
The winner of this major at the PGA Tournament will get a spot in The Players Championship in the TPC Sawgrass next March.