Soccer News
'I let the man know I knew' – USMNT goalkeeper Turner reveals playmaking that preceded Qatar's missed penalty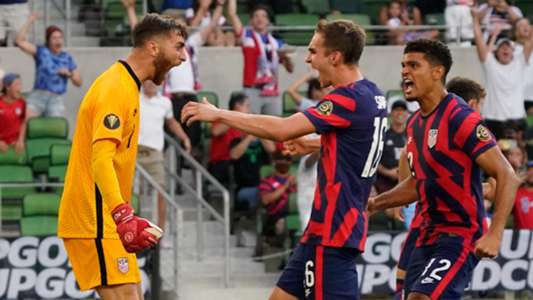 The missed spot kick of the second half was a turning point when the USA booked a place in the Gold Cup final
U.S. men's goalkeeper Matt Turner has revealed what happened in the moments leading up to Qatar's game-changing penalty kick in Thursday's Gold Cup semi-final.
After James Sands imposed a foul, the U.S. received a penalty kick from the second half from Hassan Al-Haydos, who scored a panenka earlier in the tournament.
But after the dark arts took over a bit by postponing the penalty, the US was lifted by a miss from the Qatari star, which helped a final 1-0 victory to secure a place in the Gold Cup discuss final.
What did Turner say?
"I don't think the words that were said would be good for a press conference," Turner said laughing, "but it's usually back and forth. It was obviously a big moment and in an international tournament, tensions were high and emotions were running high.
"For me, I was just trying to let the man know that I knew, that I was watching his penalties. I think even before, I mimicked his run-up while I was back to my goal of just trying to waste. I have as long as possibly waiting in the middle because I knew he broke down the middle earlier in the tournament, and then you just see what happens from there.
'Even though I went the wrong way, I want to think that a combination of all things, my team slowing down the shot, I keep my ground, everything led to that moment and it was a great moment for us. "
Turner blinds again
The New England Revolution goalkeeper delivered another Man of the Match performance on Thursday, helping the U.S. lead to the 1-0 victory.
Turner made two miraculous saves early on with the U.S. struggling to get into the game, the second of which was an almost impossible stop on a dismissed shot.
With the qualification for the World Cup, Turner's heroic deeds definitely got him into the conversation about the USMNT's no. 1 as he appears to be competing with Manchester City goalkeeper Zack Steffen.
Berhalter: It shows how much they wanted to win
In the moments after the penalty kick, Kellyn Acosta was one of several American players who showed a bit of playfulness by slowing down the kick.
While some mini-quarrels broke out and when Turner did his part to postpone Al-Haydos, the US did just enough to make the person who was deprived uneasy and eventually change the game.
After the game, US head coach Gregg Berhalter said he could not look closely enough from his place on the sidelines, although he said he felt at first glance that the punishment was mild.
"I did not look good at commenting fairly on it," Berhalter began, "but I think the guys were disappointed. For me it was a potentially soft penalty kick. There was movement to go down, but before it was very light contact.
"I'm going to watch it again, and I think it shows how much they wanted to win. I had to see if we went overboard, but the guys wanted to win."
Further reading