Soccer News
"My first beer!" – Bellingham celebrates Borussia Dortmund winner in unusual way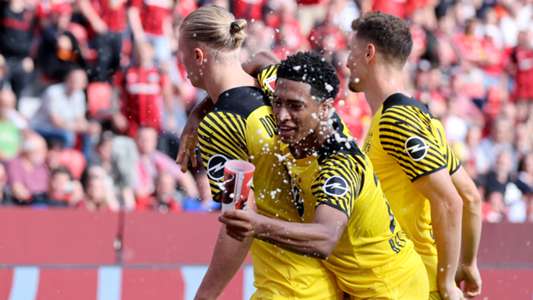 The 18-year-old assumes what he confirmed was his first taste of the drink in the middle of a seven-goal thriller at the BayArena
Borussia Dortmund star Jude Bellingham showed a new celebration with a cup of beer during a pleasant 4-3 win over Bayer Leverkusen on Saturday.
A late penalty kick by Erling Haaland helped the visitors gain the upper hand in a match that made them come back from behind three times before finally winning.
But their young English star also shared the news of his 'first beer' and earned some contempt from his own organization for the antics.
"My first beer!"
Haaland put Dortmund ahead 4-3 from the penalty spot with 13 minutes left on the clock and ran immediately to the corner of Leverkusen's BayArena to celebrate, with Bellingham in the rush.
Their happiness was, quite surprisingly, received in a less than gracious way by the home crowd, who began throwing paper beer mugs at the celebrating players.
While most of the drinks ended up on the lawn, Bellingham showed admirable reflexes to snatch one of the containers from the air, and he lifted the drink to his mouth.
"Perfect day for my first beer … Not a fan," he later joked on Twitter as he shared a series of catches.
The former Birmingham City youngster was picked up later in the final minutes when Dortmund retained an important victory.
Kehl, staff in Dortmund, scold Bellingham
But not everyone was so impressed with Bellingham's performance.
One of the critics was Sebastian Kehl, who heads the club's division for licensed players.
"I told him not to do that," Kehl said. Sky Sport Germany after the match. "I'll tell him again. The boys are of course charged, it was a warm atmosphere.
"It's nice to have spectators here again, but it was very hot, there were also a lot of decisions against us."
Saturday's victory takes BVB to third place in the Bundesliga position, having won three and lost one of their four outings so far.
Further reading