Golf News
O'Toole clinches first tour at Women's Scottish Open – Golf News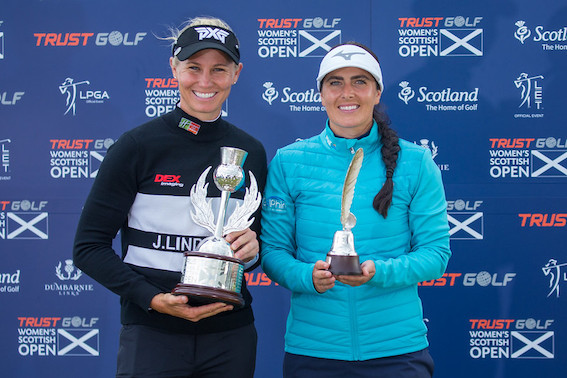 America's Ryann O'Toole, plays in her 228ste opportunity and 11ste season on tour, won the first title of her career at the Trust Golf Women's Scottish Open at Dumbarnie Links in Fife.
A visibly emotional O'Toole, who played in her 2011 solstice in the Solheim Cup in 2011, said during her press conference in Champion: "Words can not describe how I feel now. It did not really seem. It seems very surreal "And definitely a dream come true. I can not believe it took so long to win, but it's finally here."
At the start of the final day, few could have predicted that O'Toole would be the trophy during the awards ceremony, as she was perhaps the least decorated of the players on the three-star list, including three major champions, six LPGA winners and seven LET champions.
And yet it was the Californian who calmly struck three shots off the field with an error-free -8 below par that took her to -17, without a moment where she looked anything but an experienced winner.
O'Toole's love for left-handed golf came through during the week, though she explains that was not always the case: 'I think, regardless, if I win here, I'll take it back to my first year, second year on tour and play my first British open and learn what true links are. I felt like I was kicking my butt at Royal Liverpool. It was blowing. One of the rounds was called for the day. I've never played anything like this before, and I remember hitting tee shots that just fell over it, like it's not going to work here. And then I said, Wow, there is so much to learn and change and understand about this style of golf, and after that I fell in love with how to hit a very low tap shot, how to play the contours of golf green and the course, and I just feel like I like this style of golf, and it suits me that this is my first win. "
Second was the main winner and two-time winner of the Olympic medal, Lydia Ko, whose heroic final of 9 parks was not quite enough to achieve her second title of the year. Next to Ko in second place, finishing with a 66, was the impressive Thai teenager, Atthaya Thitikul, the current leader during the LET's race to the Costa del Sol in 2021.
Thitikul, who spent a large part of the week saying that she did not like links golf, apparently softened when asked if she would like a little more: 'Yes, of course, just a little more, definitely not that much because you know, it's definitely hard to link with links. Links are hard! "
Past champion and double Major winner Ariya Jutanugarn finished fourth while England's Charley Hull's solid final round of -3 took her next fifth place in the last Major of the year at Carnoustie.
Hull says: 'I think overall, with a good finish here, it gives me a good momentum after next week. It was a wonderful golf course that led to Carnoustie. This is a real link and we know what Carnoustie is like. I am very excited for next week and learning from this week and accepting the positives and working on the things I feel need to be worked on, and having fun and seeing what happens. "
Kelsey MacDonald (photo above with O'Toole) finished at -7, T15 and was the leading Scottish player to win the Jock MacVicar Leading Scot Trophy, created in honor of legendary golf journalist Jock MacVicar, an ardent supporter of the event, who passed away earlier this year at the age of 83.