Soccer News
South Africa U23 0-3 Mexico U23: Notoane's men are on their way home after losing their third consecutive match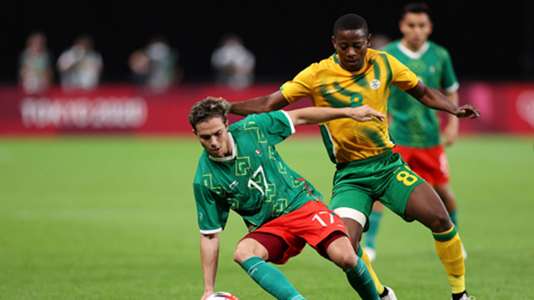 It turns out to be the worst participation in football for the African team after not winning three matches
South Africa were sent off at the Olympics after losing 3-0 to Mexico in a soccer group A match at the Sapporo Dome on Wednesday.
Two goals in the first half by Ernesto Vega (18th minute) and Luis Romo (45) as well as Henry Martin's attack on the hour, condemned South Africa to a sad campaign,
After being defeated 1-0 by Japan before falling 4-3 to France, the men of David Notoane went down to clinch a record of South Africa's worst participation in the matches, while pushing the button of their pool ended.
South African coach David Notoane brought Thendo Mukumela back to the starting line-up for Reeve Frosler, while Kamohelo Mahlatsi started in front of Nkosingiphile Ngcobo.
Mexico had better talks when the game started, but Luke Fleurs and Tercious Malepe were strict not to concede.
While Mexico was under pressure, Fleurs were active in stopping Romo who eliminated some defenders in the 26th minute.
It finally paid off for the Central and South Americans when Carlos Antuna crossed for an unmarked Vega to connect the dead end.
It was a delivery that exposed the defense of South Africa because Vega was inside the box without supervision.
Vega was back again, but Ronwen Williams found a warning to deny him up close.
Mexico continued their dominance and asserted Romo to thwart a criminal attempt by Lebohang with a fistfight from Williams.
Mexico's second goal apparently sucked the power out of South Africa who struggled to measure opponents.
An anxious moment two minutes into the second half saved by Malepe was cleared up after an exchange between Romo, Martin and Antuna.
An attempt by South Africa to strike back was then frustrated when Evidence Makgopa in the 51st minute was a bit slow to get up and hold off in a lead from Thano Cele.
Problems deepened for the Africans who then made Malepe red for ten minutes in the second half.
Three minutes after Malepe was sent off, Martin was sent off by Carlos Rodrigues to beat Williams and make it three goals for Mexico.
But the numbers were tied when New Zealand referee Matthew Conger showed Rodriguez a red card in the 66th minute.
Romo then almost scored his second goal of the match, but he only shot wide because South Africa had no hope of returning to the match.
With 13 minutes left, Fleurs were on hand to clear a deceptive cross from Romo with his head on the goal line, while South Africa survived another attack.
Mokoena forced a save from Mexican veteran goalkeeper Francisco Ochoa to save desperately in stoppage time, but it was not enough to at least get a consolation goal.