Soccer News
South Africa v Eswatini Match Report, 08/07/2021, COSAFA Cup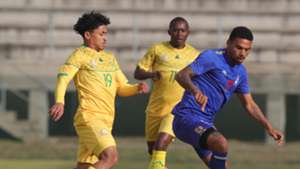 South Africa 1 – 0 Eswatini: Another super-sub sends Bafana as Cosafa Cup group first
Substitute Thabang Sibanyoni made the difference when his second-half goal for Bafana Bafana on Thursday at the Isaac Wolfson Stadium on the outskirts of Gqeberha resulted in a 1-0 victory over Eswatini on ten men.
Sekhukhune United forward Sibanyoni took 59 minutes to help Bafana claim maximum points and remove Sihlangu from the top of Group A.
Just like in their opening match when Kagiso Malinga rose from the bench to score in the 1-0 win over Botswana, it was another substitute who made the difference for Bafana, whose defense is not yet in this competition would not be broken.
South Africa is again led by Morena Ramoreboli and stands in for Helman Mkhalele who sets him apart.
For a second consecutive game, Bafana were exhausted and had only four players on the bench, but this time they took advantage of Eswatini after receiving a red card from captain Felix Badenhorst just before half-time.
Ramoreboli made a change on Tuesday in the group that tipped Botswana 1-0, starting Kagiso Malinga in place of Sibanyoni of Sekhukhune United.
Eswatini had the TS Galaxy duo of captain Badenhorst and Justice Figuaredo as the main players.
On a windy afternoon in which movement of the ball was affected by the weather conditions, both teams struggled especially in a boring first half where very few opportunities were created.
Neither of the two goalkeepers, Veli Mothwa, the Bafana captain, and Ncamiso Dlamini were ever called up to save in the first half.
The wind saw stray passes at the order of the afternoon and the only realistic chance came three minutes before half-time when Badenhorst's free-kick went just over the bar from the edge of the penalty area.
Eswatini was reduced to ten men in the stoppage time of the first half when he kicked Sphelele Mkhulise in a second bookable offense.
The first realistic chance of the match was three minutes into the second half when Figuaredo broke free, only to face Mothwa, who did well to thwart danger in a one-on-one situation.
Four minutes later, Eswatini came close again when Khethokuhle Mkhontfo just kicked a corner kick from Figuaredo.
Just when Sihlangu seemed to have the upper hand, Monnapule Saleng set Sibanyoni on the leg, beating Dlamini by just five minutes on the field to record his first international goal in two Bafana Caps.
It only took 17 minutes before Eswatini really tried to strike back when Sabelo Ndzinisa expropriated Thabani Dube, but his shot was caught by an awake Mothwa.
South Africa almost doubled their lead with four minutes left, but Malinga was a bit late to join a Mkhulise through ball, which enabled Dlamini to close danger.
Seconds later, Bafana thought they had won a penalty when Sihlangu Mkhwanazi apparently handled inside the cabinet, but the referee blew the whistle.
Eswatini then got their best chance of the match, but substitute Phiwayinkosi missed with his head on the points ladder with Mothwa off his goal line.
This scared Bafana and held on to secure another victory before their next match on Tuesday.
In another match played at the same venue earlier, defending champions Zambia were stunned by Lesotho.
The crocodiles from Lesotho came from behind when Bloemfontein Celtic forward Sera Motebang destroyed the attack for Justin Shonga for Chipolopolo in the last 20 minutes.
It was a surprise that Zambia lost with an almost full team squad that includes Shonga, AmaZulu's Augustine Mulenga, veteran goalkeeper Kennedy Mweene, SuperSport United striker Gamphani Lungu, TP Mazembe's Kabaso Chongo and Salulani Phiri.
It was their first match in the tournament and they anchored Group A before their next match on Saturday against Eswatini.