Golf News
TEAM COWAN claims Aramco series victory over Centurion – Golf News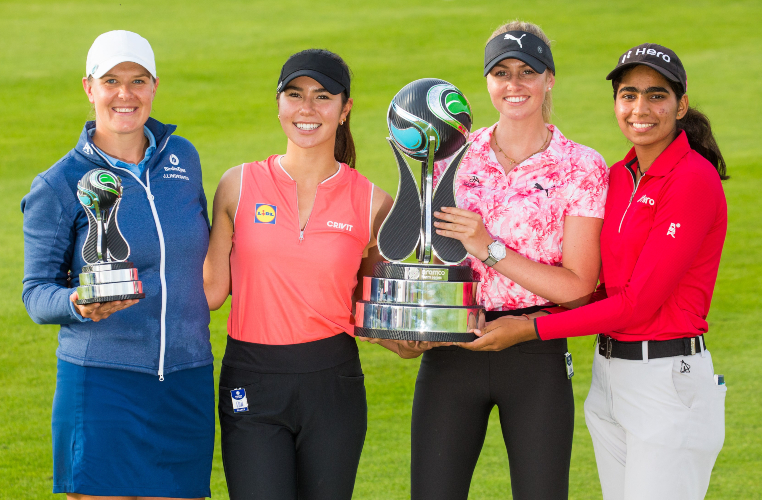 The team led by female European tour professor Olivia Cowan won the London leg of the Aramco team series in style as they reached a final round of 12 under-par to secure a three-stroke victory at Centurion Club in Hertfordshire.
After the day started two strokes ahead, Cowan and her teammates Sarina Schmidt, Diksha Dagar and amateur Andrew Kelsey delivered an exciting back-to-back nine, while winning along with 41 under par.
The result also meant that captain Cowan and Schmidt won their first title at the LET, while it was a second for Dagar – who won the 2019 Investec SA Women's Open.
Cowan said: 'I can not put into words how wonderful it is. Sharing it with one of my best friends is also amazing. I was really lucky with my team. I knew I wanted to pick Sarina two weeks ago and Diksha would also be in the team – I knew she was a good player and that she could punch a few holes – I knew we had a good chance has. We all just complemented each other. We were all so wonderful out there – we are a proper team. We were not looking to win the individual, we would go there as a team to win the team match and it paid off. '
On the 13th hole, Cowan produced a moment of magic when she protruded 90 degrees with a 56-degree wedge and Schmidt cites it as the point where momentum turned in their favor.
Schmidt explained: "At the beginning it was quite difficult for us because holes did not fall, but on hole 13 when Olivia made the shot from the outside and made an eagle, I think that was where we gained momentum. I would not have been able to think of it at the beginning of the week. I knew it would be great with Olivia and Diksha and our amateur. I'm speechless. "
Team Cowan finished three strokes ahead of Team Skarpnord, who scored a round of 16 under par on the final day and ensured that they finished in second place with 38 under. It was an excellent day for the captain, Skarpnord, when she mapped a round of 68 (-5) with the Thai Atthaya Thitikul at 13 below track figure at the top of the standings.
The duo returned to 18 and for the second time the Norwegian overtook her birdie hole to win the individual title – her fifth on the LET.
Skarpnord said: 'It was won with a lot of nerves. On the short holes my hands almost tremble. Winning this event is very special. I think this concept is so, so good and we had so much fun this week. I like the format. It's so much fun when you're a team and you also have to do good for someone else – not just yourself. '