Cricket News
Twitter Reacts As England Turn Tables On India Courtesy Joe Root's Impeccable 180*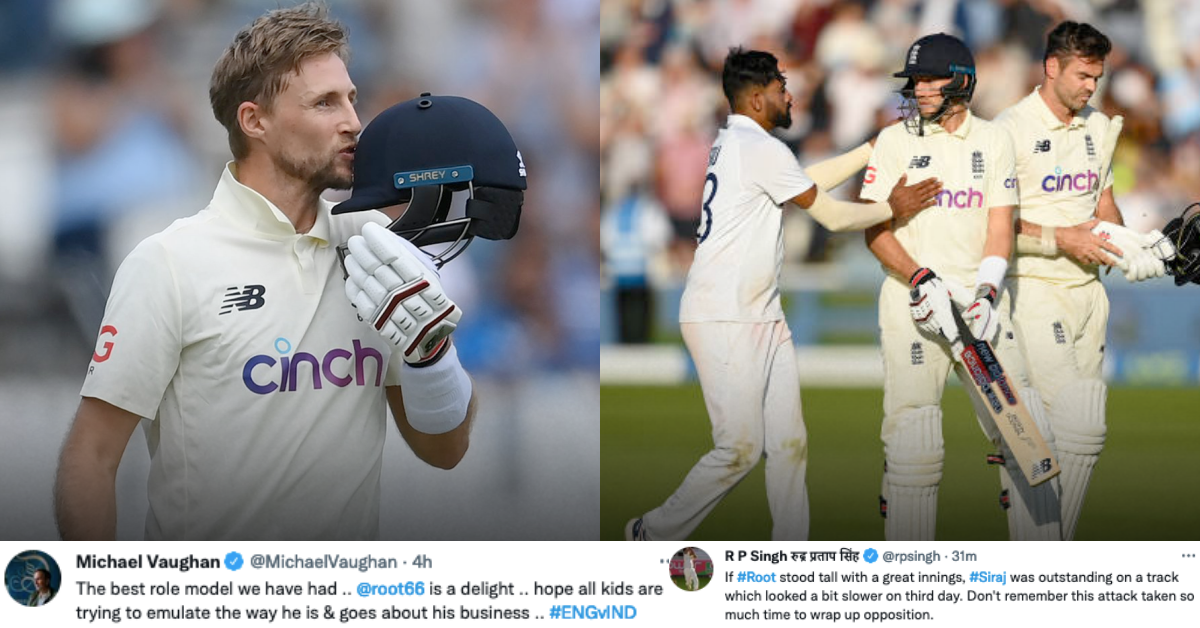 A yet another fascinating day of Test match cricket saw Joe Root once again assert his dominance against India as the England captain scored an unbeaten 180 to help his side take a first-innings lead of 27 runs to assume a real position of strength heading into day 04.
Starting the day with a deficit of 245 to wipe off, England needed a big partnership from skipper Joe Root and Jonny Bairstow and that is exactly what they did in what were easily the best conditions for batting in this series thus far.
We were greeted to a bright and sunny Lord's on the third day and English batsmen, especially Joe Root cashed in big time on a surface that wasn't offering much.
Root and Bairstow batted through the morning session during which they scored as many as 97 runs. Barring a testing spell from Jasprit Bumrah where he challenged the outside edges of Root and Bairstow, the Indian bowlers rarely troubled the hosts as they kept on offering a boundary ball every second over.
India got a much-needed breakthrough after the Lunch break when Jonny Bairstow tamely fell into a short-pitch ploy by Mohammed Siraj, who bowled a barrage of short-pitch stuff after the break.
However, Joe Root continued to bat in his merry way as England captained notched up his 5th Test ton of the year and his second in as many innings.
Root and Buttler stitched another 50+ stand before Ishant Sharma provided India with a crucial breakthrough of the latter with a peach of delivery; one that breached Buttler's bat and pad to hit the top of off-stump.
Moeen Ali struggled initially during his innings before Indian bowlers released all the pressure by giving him half-volleys to feast on.
Root completed his 150 post the Tea break before Ishant Sharma once again proved to be the breakthrough provider after the Tea break as he dismissed Moeen Ali and Sam Curran in a space of two balls in the 111th over.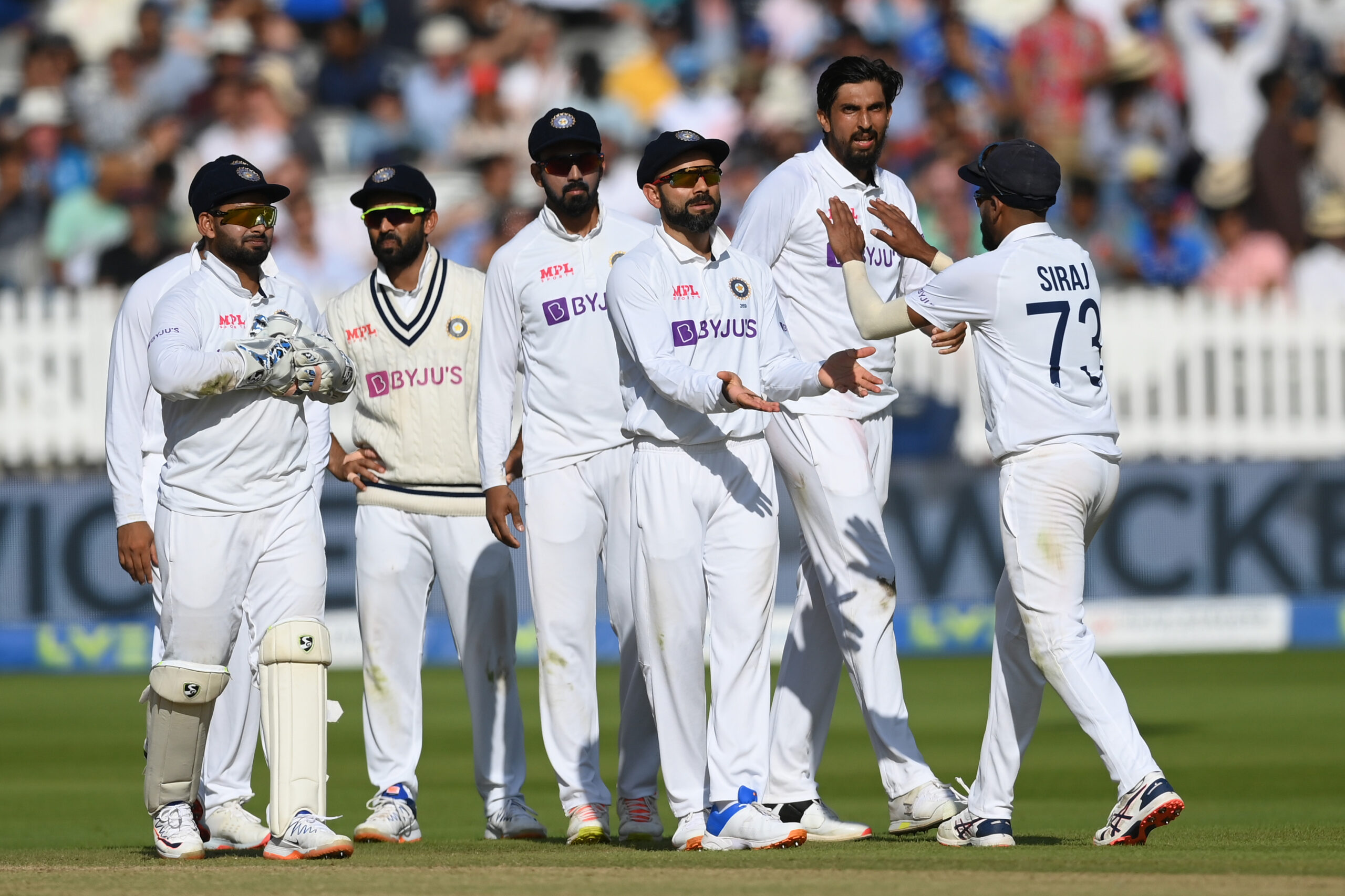 Bowling from round the wicket, Ishant induced an outside edge from the bat of Moeen Ali to Virat Kohli at first slip.
The ball was dying on Virat but he ensured that he had his hands underneath the ball. The on-field soft signal was out and it was vindicated by the third umpire.
Ishant induced another edge on his very next delivery off the bat of Sam Curran, and Rohit Sharma did the rest by claiming the easiest of the catches.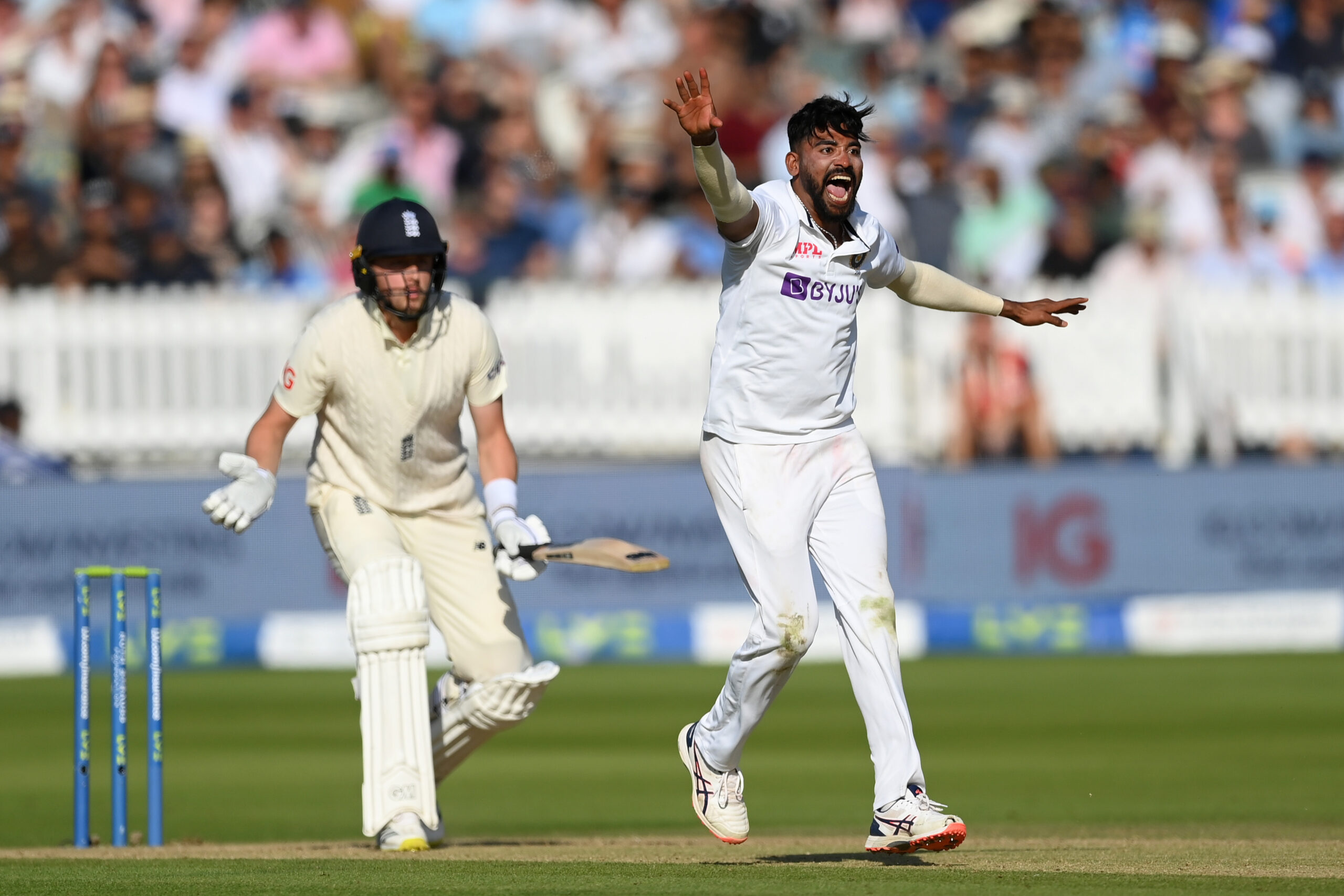 Mohammed Siraj bowled a sensational spell against Ollie Robinson where he constantly brought the ball back into the tall batsman to wrap him on his pads.
After a series of unsuccessful appeals, Siraj finally got his man trapped in front and although Robinson challenged the call, Umpire's Call meant he had to go.
England soon wiped off the deficit before Mark Wood got run-out as he sacrificed his wicket after a horrible miscommunication with Joe Root.
Reckon I would have been out about 17 times in that 10-ball Bumrah over#ENGvIND pic.twitter.com/swk0tbAgJl

— The Cricketer (@TheCricketerMag) August 14, 2021
Jimmy Anderson endured sustained chin music from Jasprit Bumrah in an extended over thanks to the latter's no-balls [4 in total] but he survived the onslaught to allow Joe Root to play some extravagant shots off Mohammed Siraj as the English captain looked to close in on yet another double ton.
But Mohammed Shami ensured that Root stayed was left stranded on 180 as he knocked over James Anderson wiith a full delivery on the ball final of the innings but not before England had taken a 27-run-lead.
Here's how Twitter reacted to Day 3 of the 2nd test between England and India:
It's so Heartening to see someone like #MohdSiraj run in every delivery with the same energy and zeal everytime, every place, every wicket.. Richly deserves a Fifer #Lordstest #INDvENG

— Kartik Murali (@kartikmurali) August 14, 2021
If #Root stood tall with a great innings, #Siraj was outstanding on a track which looked a bit slower on third day. Don't remember this attack taken so much time to wrap up opposition.

— R P Singh रुद्र प्रताप सिंह (@rpsingh) August 14, 2021
That's as impressive a session of Test Batting that we have seen from England for a long long long time … #ENGvIND

— Michael Vaughan (@MichaelVaughan) August 14, 2021
The best role model we have had .. @root66 is a delight .. hope all kids are trying to emulate the way he is & goes about his business .. #ENGvIND

— Michael Vaughan (@MichaelVaughan) August 14, 2021
England lead by 27. A wonderful day of Test cricket in what's becoming a wonderful Test match.#ENGvIND pic.twitter.com/W8w3tPNv9T

— Wisden (@WisdenCricket) August 14, 2021
India bowled 14 no-balls today, the most by any Test side in a day since Sri Lanka bowled 15 against Bangladesh in 2014. #ENGvIND

— The CricViz Analyst (@cricvizanalyst) August 14, 2021
JOE ROOT IS THE BEST#ENGvINDpic.twitter.com/4OvwJucr88

— The Cricketer (@TheCricketerMag) August 14, 2021
Joe Root's Test hundreds at Lord's
180 vs Aus 2013
200*vs SL 2014
190 vs SA 2017
180*vs Ind 2021

Only Kumar Sangakkara has had more 180+ scores at a venue – five at Colombo SSC.#ENGvIND

— Deepu Narayanan (@deeputalks) August 14, 2021
Bumrah's no-balls are an issue again, remember four years ago his no-ball cost India a tournament! #cricket #EngvInd

— Chandresh Narayanan (@chand2579) August 14, 2021
Four no-balls in an over in Test cricket is a rarity!#Bumrah#EngvInd #EngvsInd #IndvEng

— Mohandas Menon (@mohanstatsman) August 14, 2021
Ten-ball overs and now Root pulling out all the party tricks. The Hundred has come to the Test match #ENGvIND

— Andrew Miller (@miller_cricket) August 14, 2021
No Stokes,Woakes,Broad or Archer in this Eng team.Joe Root: the most experienced batsman is exhibiting batting masterclass by scoring a ton & Anderson: the most capped Eng pacer took a 5-for at 39 when he wasn't 100% before the Test.Experienced players standing up when it matters

— Sarang Bhalerao (@bhaleraosarang) August 14, 2021
Kohli passing the Siraj DRS Test with flying colors now 😋👍🏼

— Saurabh Malhotra (@MalhotraSaurabh) August 14, 2021
Before this when India took two in two, England added 85.

— Gaurav Sethi (@BoredCricket) August 14, 2021
Ishant deserved that wicket. He has bowled well.

Honestly, I felt Moeen should have tried to play his natural game after tea.

— Bharath Ramaraj (@Fancricket12) August 14, 2021
Can't criticize your bowlers much when someone like Root is batting at the height of his powers. Just impregnable at the moment.

Respect!

— Yash 🇮🇳 (@im_yash2307) August 14, 2021
What a time to score your 22nd Test Hundred! With England under extreme pressure the captain delivers again. Unbelievable grit and determination from Joe Root. Only Kevin Pietersen (23) and Alastair Cook (33) ahead of him now… #ENGvIND pic.twitter.com/nEwfDa2LFk

— Aatif Nawaz (@AatifNawaz) August 14, 2021
Watching Joe Root making back to back 100s 😷

Me to Kohli😭 #INDvENG pic.twitter.com/j4M20EgGhs

— Alok 🏏 (@CricCrazyAlok) August 14, 2021
Most test runs against India:

R. Ponting: 2555
A. Cook: 2431
C. Lloyd: 2344
J. Miandad: 2228
S. Chanderpaul: 2181
M. Clarke: 2049
J. Root: 2022*#ENGvIND #ENGvsIND #LordsTest #JoeRoot

— Arpit Rastogi 🏏 (@arptrastogi) August 14, 2021
125 at The Oval, 2018
218 at Chennai, 2021
109 at Nottingham, 2021
100* at Lord's, 2021

All of the last 4 Test centuries by a captain against India has been scored by Joe Root.

Other streaks of 4 centuries by captains v IND :
Don Bradman in 1947-48
Clive Lloyd in 1983#ENGvIND

— Rhitankar Bandyopadhyay (@rhitankar8616) August 14, 2021
Wow Joe Root. Another century. What a batsman. Well played lad. #ENGvIND

— Chloe-Amanda Bailey (@ChloeAmandaB) August 14, 2021
Current Players with most Test 100s as captain

Virat Kohli 20
Steve Smith 15
Kane Williamson 11
JOE ROOT 11* #ENGvIND #Root

— India Fantasy (@india_fantasy) August 14, 2021
Given everything else he is trying to manage, with so much responsibility and administrative decisions that just hamper him as Test captain, this innings (and the one at TB) is just spectacular. English cricket should be so so grateful for Joe Root.

— Elizabeth Ammon (@legsidelizzy) August 14, 2021
Joe Root's top Test scores in 2021:

228
218
186
109
100*

Some form.#ENGvIND pic.twitter.com/SFQUUcKGW0

— Wisden India (@WisdenIndia) August 14, 2021
Joe Root is the first England player to score hundreds in successive innings in Tests since Ian Bell in Ashes 2013. In this period every other team, except Afg & Ire, had at least one batsman doing so.#ENGvIND

— Deepu Narayanan (@deeputalks) August 14, 2021
For all the Test cricket that England have played & do play, it's amazing that Joe Root will only be their second batsman to get to 9000 career runs. You'd think the challenge of batting a lot in English conditions couldn't be the sole reason for that #EngvIND

— Bharat Sundaresan (@beastieboy07) August 14, 2021
Joe Root – now has seven Test 100s against India.
Only Gary Sobers, Viv Richards, Ricky Ponting & Steve Smith have more Test 100s against India – eight!#EngvInd #EngvsInd #IndvEng

— Mohandas Menon (@mohanstatsman) August 14, 2021
Joe Root in 2021

Tests: 10
Runs: 1117
Average: 62.05
Hundreds: 4
HS: 228

The form of his life.#ENGvIND pic.twitter.com/ilzLaQGTIu

— Wisden (@WisdenCricket) August 14, 2021
Test hundred No.22 for Joe Root.

It's his fifth Test century of 2021. Yet another sensational innings from England's captain 👏#ENGvIND pic.twitter.com/0MZ2fiQ7xr

— Wisden (@WisdenCricket) August 14, 2021
Joe Root last 4 Test innings against India at home:

125, 64, 109, 106-

— Broken Cricket (@BrokenCricket) August 14, 2021
Unequivocally back in the Top 4 Big Boys

— The Grade Cricketer (@gradecricketer) August 14, 2021
Consecutive tons in 2 matches for Joe Root
World didn't rate him duly in the recent times, he also went through a phase where he used to get 60-70 but failed to convert it into a 100
2021: 4-100 2-200, 1k+ runs & today a century at Lord's
An innings which got 🏴󠁧󠁢󠁥󠁮󠁧󠁿 back in the game

— Shrutika Gaekwad  (@Shrutika_45_) August 14, 2021
Joe Root becomes just the seventh England batsman to make 5+ Test centuries in a calendar year:

Denis Compton – 1947
Dennis Amiss – 1974
Michael Vaughan – 2002
Kevin Pietersen – 2008
Alastair Cook – 2010
Ian Bell – 2011
Joe Root – 2021#ENGvIND

— The CricViz Analyst (@cricvizanalyst) August 14, 2021
Joe Root has 5 hundreds and 1 fifty from 19 innings at an average of 65 with 1170 runs in Test cricket in 2021.

— Johns. (@CricCrazyJohns) August 14, 2021
16 batsmen have 9000 runs in Tests. Joe Root is the first one to do it in less than 9 years. Made his debut in December 2012 only. It also highlights how much Test cricket England play compared to others. England in this time have played 109 matches, World Champions NZ have 72.

— Mazher Arshad (@MazherArshad) August 14, 2021
India finally have a breakthrough 👊

Jonny Bairstow falls for Mohammed Siraj's short ball trap.

England are 229/4, 135 runs behind India.#WTC23 | #ENGvIND | https://t.co/rhWT865o91 pic.twitter.com/PTHf3GW8H9

— ICC (@ICC) August 14, 2021
Brilliant from Siraj! The ploy finally works

— Yash 🇮🇳 (@im_yash2307) August 14, 2021
Only one of the last 12 balls bowled by India's seamers has been fuller than 8m from the stumps – i.e. everything has been short. A concerted change of tack with the old ball. #ENGvIND

— The CricViz Analyst (@cricvizanalyst) August 14, 2021
India missing @ashwinravi99 methinks…

— Cricketwallah (@cricketwallah) August 14, 2021
Big session for England. New ball in 7 overs for India. Huge second session in the context of the match. One will lead to two with the new ball. Join me @SportsTodayofc YouTube- https://t.co/w8L2XP8IWU as we analyse the game.

— Boria Majumdar (@BoriaMajumdar) August 14, 2021
KL Rahul fielding in the deep. takes a skilled player to know how to avoid the random cork hazards: pic.twitter.com/IuAZOwBfyc

— BionicBanker (@BrokenBanker) August 14, 2021
Advantage England. Excellent session for them. Well played Root (3 50+ scores in 3 innings this series) & Bairstow (scores a Test fifty after 2 years).
Big moment for India will be taking the 2nd new ball.

— Sarang Bhalerao (@bhaleraosarang) August 14, 2021
#Kohli mass 🔥🔥

Crowd threw something on the ground where KL Rahul is standing !

Kohli signals KL to throw it out of the ground#ENGvIND #Kohli#IndvsEng pic.twitter.com/ZjIRm3JEqj

— Gowtham ᴹᴵ (@MGR_VJ) August 14, 2021
Everytime crowd misbehaves with our players, I miss the legend. pic.twitter.com/qgcSkj4hR2

— Silly Point (@FarziCricketer) August 14, 2021
This is not good, England Fans need to realize that they have to show everyone they don't represent those Football fans, but than these english don't give a hell to all of us. Very bad from Crowd, you all should be ashamed of ot #ENGvIND

— Yashraj (@cricyashraj) August 14, 2021
The pitch (and the ball) is not offering India much, but Jonny Bairstow's naturally attacking method is still giving chances. #ENGvIND pic.twitter.com/2pKzeKfkgv

— The CricViz Analyst (@cricvizanalyst) August 14, 2021
Over number 60 was a fantastic one by Bumrah. He confused Bairstow to a certain extent. This was probably the best over of the first session so far. #ENGvIND

— Debashish Sarangi (@Plumb_infront) August 14, 2021
Pant, kuch bol Bhai stump mic mai. Lagta hai Root bore kar dega. #Engvind

— Silly Point (@FarziCricketer) August 14, 2021
Pitch when India bats When Eng bats #ENGvIND pic.twitter.com/87l4135joY

— India Fantasy (@india_fantasy) August 14, 2021
Joe Root in 2021: 1,117 Test runs @ 62, four centuries (inc two doubles), two-half centuries and currently 53*

— Ali Martin (@Cricket_Ali) August 14, 2021
Just 0.7 degrees of swing today for India, and 0.5 degrees of seam movement. Neither is particularly threatening – India are bowling very full (38% pitched up) looking for movement, but so far it isn't there. #ENGvIND

— The CricViz Analyst (@cricvizanalyst) August 14, 2021
Before the start of play, Ravindra Jadeja spoke about how his role as a bowler in this line-up was to keep it tight for the pacers & look to break partnerships. Possibly a glimpse into how India are perhaps planning to rely solely on their pace attack to win this series #EngvIND

— Bharat Sundaresan (@beastieboy07) August 14, 2021
Also Read: I Believe Only The Wicketkeeper Should Decide Whether It's Worth Going For A DRS – Sunil Gavaskar After Virat Kohli Wastes Two Reviews At Lord's